SYNOPSIS   AJ Felipe makes the most of being the head information security engineer for a local law firm with the help of her loyal team of nerds. Their job isn't really the most fun, but things take a turn when one of her junior security engineers decides to nominate her for a makeover […]
SYNOPSIS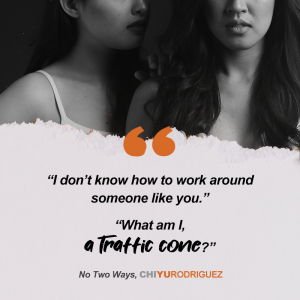 AJ Felipe makes the most of being the head information security engineer for a local law firm with the help of her loyal team of nerds. Their job isn't really the most fun, but things take a turn when one of her junior security engineers decides to nominate her for a makeover show.
Enter Jackie Niño, the one-night stand AJ didn't expect to meet again—who also happens to be the makeup artist who's going to get her all dolled up on national television.
More complications arise after the episode is aired and another ghost from her past comes back to haunt her: Axel Herrera, the ex-boyfriend who still thinks she left him because she's a lesbian.
Spoiler alert: She isn't.
Being bisexual is hard enough. How will AJ navigate new feelings while finding closure for old heartaches?
(Disclaimer: On-page F/F and M/F only)
MY REVIEW
Eye opening and engaging with a high heat level, "No Two Ways" is the story of AJ and how her bisexuality makes her life a little more complex than usual. When you're tagged as either "not straight enough" or "not gay enough," and you don't really know how to situate yourself, having to deal with relationships is extremely difficult. Some people will think of you as "greedy" because you can be with both girls and boys, and sometimes, you choose not to be with anyone at all—just to avoid complications.
I loved AJ's story and reading about her life and struggles really enlightened me on what a bisexual woman goes through. I appreciated the encounter between AJ and her ex-boyfriend, specially that very emotional scene while they were dancing. I loved #AJacks, as their chemistry was unmistakable. I was pleasantly surprised at the heat level of the story, but no complaints from my side! AJ and Jackie's progression from the initial hook-up, to the reality show make-over, to the tentative encounters at first, then the grand gesture at the end.
Random thoughts: I can relate to a lot of the components of this story.  AJ is in IT, as I am. She has an ex-boyfriend named Axel, which I did. She came from an exclusive girls' Catholic school, which I did  too.

Genre: Adult Contemporary Romance, Queer Romance
Release date: April 27, 2019
BOOK COVER INFO
Cover Models: Rachel Coates, Gab Pangilinan, Gio Gahol
Photographed by: Chi Yu Rodriguez
Cover Designed by: Chi Yu Rodriguez
Title Art by: Carla de Guzman
Styling by: Alex Lapa
BUY LINKS
 Amazon: bit.ly/NTW-Amazon
Print-on-demand (PH only): bit.ly/chiprints
Goodreads Link: bit.ly/NTW-Goodreads
ABOUT THE AUTHOR
Chi Yu Rodriguez has many feelings. Sometimes these feelings find their way to paper in the form of short stories and fiction online. Sometimes they don't come out at all and end up as unresolved sexual tension or terrible internal angst.
She prefers making imaginary people go through these feelings for her pleasure. Her muses hate her for it, and they repay her by being forever fickle.
She wrestles with them in her head everyday.